Archive for February, 2008
WFMU / SXSW update: The Homosexuals + Los Llamarada added: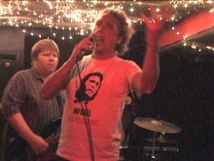 Just added to WFMU's huge soiree on March 14th in Austin: legends of British DIY The Homosexuals (pic left taken by Joly) who these days are Bruno Wizard and assorted compadres, and Los Llamarada (right, pic from Mi Abela blog), four amazing young art-punk upstarts from Mexico (and the highlight of last year's SXSW for many). If you haven't heard yet, we've got a 14 band extravaganza happening at Spiro's, 611 Red River, right in the heart of downtown Austin; it's WFMU's first ever visit to the SXSW music fest. Showtime for both indoor and outdoor stages is 7PM, and the show is 18 and over, $10 at the door, or free with your SXSW badge/wristband. Other bands on the bill: Harvey Milk, Kelley Stoltz, Hank IV, Evangelista (Carla Bozulich's ensemble), Half Japanese (with Ira Kaplan on guest sax), Citay, the Bad Trips (Grady from Monoshock's new band), Gary Higgins, Paul Metzger, Cheveu, the Lexie Mountain Boys, and Psychedelic Horseshit! WFMU will be broadcasting, and staffers including Irene, Diane Kamikaze, Liz Berg, and myself will be in the house. How much entertainment can you stand?