Nothing To Do With Arbroath: Airline passenger had monkey under his hat
By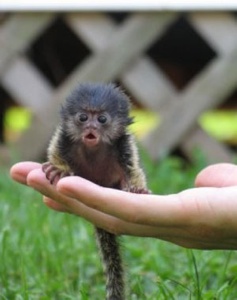 Nothing To Do With Arbroath: Airline passenger had monkey under his hat:
WEDNESDAY, AUGUST 08, 2007
Airline passenger had monkey under his hat
A man was questioned by US border authorities after he smuggled a monkey onto an aeroplane by hiding the animal under his hat.
On a flight from Fort Lauderdale, Florida to New York's LaGuardia airport, people around the man noticed that a marmoset – a fist-sized animal which normally lives in forest and eats fruit and insects – had emerged from underneath his hat and was perching on her ponytail, according to Alison Russell, a Spirit Airlines spokeswoman.
The man's journey had begun in Lima, Peru.
"Other passengers asked the man if he knew he had a monkey on him," Russell said. The monkey spent the remainder of the flight in the man's seat and behaved well, said Ms Russell.
She did not know how the monkey escaped detection in Lima and during the man's several-hour layover in Fort Lauderdale.
Port Authority police, said the passenger wa

Leave a Comment